[text_block style="style_1.png" align="left"]
Thank you for visiting our websites
, hereinafter the "
Site
" 'us' or 'we', while the term "you", "your" refers to the user or viewer of our Site.
By visiting the Site you accept that you have READ and AGREE to the following terms, conditions, policies and disclaimers, which are effective since 1/1/2013 and last updated on 1/1/2015 and may change from time to time by updating this page. If you disagree with any part of these please do not use our Site.
You also agree that the limitations of warranties and liability set out in this Site will protect the Site and any related parties as, but not limited to, the owners, employees, contributors and sub-contractors.[/text_block]
[text_block style="style_1.png" align="left"]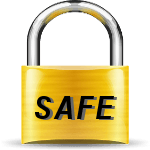 Subscribe With Confidence.
We protect Your Privacy and Inbox.
What Does This Mean?
This website is certified to responsibly manage their email marketing campaign, abiding to anti-spam rules and laws like CAN-SPAM. The emails are monitored both automatically and manually by third party for any signs of irresponsible use.
You will receive emails only  if you give them permission to do so.
You will receive emails only  related to what you subscribed to and why you subscribed.
You can unsubscribe whenever you want with a click of your mouse.
"What If I Want To Unsubscribe?"
At the end of every email you will see an unsubscribe link. Click on the button in the "Unsubscribed" column. You will be immediately unsubscribed![/text_block]
[text_block style="style_1.png" align="left"]
What Information we collect
When opting in, ordering or registering on our site we may collect the following information, as appropriate:
name (true or false how you decided to be called)
contact information like the email address
other information relevant to customer surveys and/or offers
You may request details of personal information which we hold about you under the Data Protection Act 1998. A small fee will be payable.
What do we do with the information
We require this information to understand your needs and provide you with a better service, and in particular for the following reasons:
Internal record keeping.
To improve our products and services.
To periodically send promotional emails about new products, special offers or other information which we think you may find interesting using the email address which you have provided.
To contact you for market research purposes or to send you promotional information about third parties which we think you may find interesting.
We may contact you by email, phone, fax or mail. We may use the information to customize the Site according to your interests. We will not sell, distribute or lease your personal information to third parties unless we have your permission or are working with the Site or we are required by law to do so. Non-personally identifiable visitor information may be provided to other parties for marketing, remarketing, advertising, or other uses.
Security
We are committed to ensuring that your information is secure. In order to prevent unauthorized access or disclosure,we have put in place suitable physical, electronic and managerial procedures to safeguard and secure the information we collect online. The site is updated and scanned on a regular basis for security holes and known vulnerabilities in order to make your visit to our site as safe as possible. Your personal information is contained behind secured networks and is only accessible by a limited number of persons who have special access rights to such systems, and are required to keep the information confidential. In addition, all sensitive/credit information you supply is encrypted via Secure Socket Layer (SSL) technology as all transactions are processed through a gateway provider and are not stored or processed on our servers.
Cookies
As most all of the internet websites, we may use cookies. A cookie is a small file which asks permission to be placed on your computer's hard drive. Cookies allow web applications to respond to you as an individual and help us to provide you with a better service. In no way a cookie gives us access to your computer or any information about you, other than the data you choose to share with us. We may use cookies to help us remember and process the items in your shopping cart, to help us understand your preferences based on previous or current site activity, to help us compile aggregate data about site traffic and site interaction so that we can offer better site experiences and tools in the future. We may also use trusted third party services that track this information on our behalf. You can choose to accept or decline cookies. Most web browsers automatically accept cookies, but you can usually modify your browser setting to decline cookies if you prefer. This may prevent you from taking full advantage of the website.
Re-marketing
This Site may use re-marketing to advertise online.  This means that Facebook, Google, Bing ads and other third-party vendors may show you our ads on sites across the Internet using Cookies, Dynamic Ad Serving features, DoubleClick re-marketing pixels or other technologies. You may opt out of these by visiting the relative content network privacy policies. Otherwise you implicitly agree to the possibility of providing you with interest-based advertising.
Links to other websites
Our Site may contain links to other websites of interest. However, once you have used these links to leave our Site, you should note that we do not have any control over that other website. Therefore, we cannot be responsible for the protection and privacy of any information which you provide whilst visiting such sites and such sites are not governed by this privacy statement. You should exercise caution and look at the privacy statement applicable to the website in question.
Track Signals
We honour do not track signals and do not track, plant cookies, or use advertising when a Do Not Track (DNT) browser mechanism is in place. We allow third party behavioural tracking.
Children
We do not specifically market to children under 18 years old. But we do not collect personal age of the users. Although this is a "family friend" Site, if you are under 18 years old, please do not provide us or other website with any personal information and you may use our website only with the permission and active involvement of your legal guardian.
You might contact us via the Support Desk.[/text_block]